'Billion-dollar' haul: Police seize bags of hard drugs after yacht runs aground in Abrolhos Islands West Australian Coast
Two men, a French national and a British national, crashed the yacht into a reef off the coast of Geraldton last Monday afternoon.
Authorities got more than they bargained for when they set out to find the crew of a yacht which got stuck on a reef in the Abrolhos Islands in Western Australia's Mid West on Monday, uncovering about 40 bags of illicit drugs including methamphetamine, cocaine and ecstasy.
Two men faced Geraldton Magistrates Court on Thursday, accused of trying to import about a tonne of drugs by boat through the islands.
Their plan came unstuck when the 15-metre yacht drifted onto reef near Stick Island, which is in the Abrolhos Islands group about 60 kilometres off the coast of Geraldton.
The men, a French national and a British national, were found after an "extensive" land and sea search and investigation which eventually tracked them down to nearby Burton Island on Tuesday.
Police praised the help of the local fishing community in tracking down the men after a tip-off from the public about the stricken yacht and "unusual" movements of its crew sparked the search.
"The fishing community of Geraldton played a significant role in this detection and seizure and maintained regular contact with police as this matter unfolded," WA Police Commissioner Chris Dawson said.\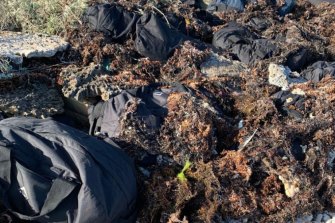 Mr Dawson told Radio 6PR police were still working with international counterparts to figure out where the yacht came from, but would allege it had travelled across the Indian Ocean.
"We're alleging they're accused of importing a very large amount of drugs," he said. "We haven't actually finished weighing them – it's a large quantity.
He later told a press conference the street value of a ton of drugs would be "in the order of one billion [dollars]".
Police later confirmed about 40 bags of drugs were found with the stricken yacht, the joint bust now referred to as "Operation Shipton".
The operation involved WA Police, the Australian Federal Police, Australian Border Force, Home Affairs, the Australian Criminal Intelligence Commission, and AUSTRAC.
The two men, aged 51 and 34, appeared in Geraldton Magistrates Court on Thursday morning and have been remanded in custody.
Mr Dawson told a media conference on Thursday while investigations were ongoing, the smuggling effort was "certainly going to be bigger than just these two [men]".
AFP state manager for WA, Commander Greg Harrigan, said the drug trade was "an attack on our society that is destroying individuals, families and whole communities".
"If you buy or use illicit drugs, know that you are supporting organised crime groups that profit from human suffering – it is not worth risking your own life with these dangerous drugs," he said.
ABF regional comander for WA Rod O'Donnell said the seizure demonstrated the valuable role the community played in helping law enforcement protect Australia's borders.
RELATED ARTICLES, TOPICS & LINKS
Henry Sapiecha